7 - 10 October 2023
Asian Contents & Film Market 2023
ATTA Night & Rolling Youth Film Festival Awards Ceremony
Tue, 11 October, 16:00 - 20:00 | Day 4
CGV Centum City CINE de CHEF
recommend to
#Director
#Investor
#Production
Films are sometimes made based on original screenplays, but they're also often made from original works such as webtoons, web novels, and literary works using publication rights contracts. Alongside the country's movies, South Korean webtoons, web novels, and other original works have also received favorable reviews around the world, and this has resulted in increased interest in and demand for the publication rights to those original works. This seminar will take a look at what legal issues these contracts present, what reasonable solutions exist for those issues, and what the future looks like from a lawyer's perspective.
Rolling Youth Film Festival Overview
Title : Rolling Youth Film Festival
Personality : Online Short Film Festival
Scale : 250 pieces
Opening schedule : August 8th (Mon) ~ October 18th (Tue)
Opening Ceremony – August 8 (Mon)
Special Screening - August 8 (Mon) ~ October 18 (Tue)
Online Screening - August 15 (Mon) ~ October 9 (Sun)
Rolling Talk - August 15 (Mon) ~ October 10 (Mon)
Offline Screening – October 11 (Tue)
Award Ceremony (Rolling Short Film Night) - October 11 (Tue)
Online Platform : ATTA ( https://www.atta.zone )
Hosted by ATTA
Supervised by Old Hand inc.
Cooperated by Asia Contents & Film Market (ACFM), Seoul Independent Film Festival (SIFF), HiShorts! Film Festival(HiShorts!)
Content disclosure through autonomous community platform "ATTA"
In order for young filmmakers in Asia to interact with each other, their excellent works should be released to more movie fans, and through this, filmmakers should move on to a bigger stage. ATTA, a WEB3 video entertainment community, will hold a Rolling Youth Film Festival in partnership with Asia Content & Film Market (ACFM). ATTA is a decentralized autonomous organization where decisions are made autonomously by participants, and is a community that consumes, discusses, and creates movie and entertainment content. Through the video content community produced by participants themselves, the next-generation content ecosystem has been established, creating an easier place for professional companies and individual content producers to create.It is also striving to protect the copyright of content by allowing new directors and new content to gain more attention. ATTA's vision is for creators to continuously create quality ideas and produce continuous business value through WEB3. This ATTA is an official cooperative partner of Asia Contents & Film Market (ACFM) and participates as a key section of various programs during the Busan International Film Festival (BIFF). It will establish a community platform for film workers in Asia, discover and cultivate a large number of excellent young film directors, and continue to provide quality content.
Through this platform, young Asian filmmakers can get an opportunity to interact deeply. Moreover, various activities such as online screenings, post-screen discussions, and online live talks will be presented. Producer Yi Chiyun(CEO of Old Hand Studio ), who specializes in international co-production films, will chair the festival's executive committee. On the panel, renowned Korean director Kang Je-kyu was appointed as the judge of the Rolling Youth Film Festival and actress Kim Yunjin as the judge. Famous Chinese director Kogunseo, Malaysian film director Jin Chui-mae, Korean film research expert Bum So-cheng, executive chairman Kim Dong-hyun of the Seoul Independent Film Festival, and producer Joo Hwi-yong were advisors.

Festival to be enjoyed both online and at the same time
The Rolling Youth Film Festival will open on August 8 (Monday) and will hold an award ceremony on October 11 (Tue). It will screen more than 250 short films by young people in the Asia- Each category is divided into excellent overseas short films submitted by HiShorts!, short films by outstanding Korean directors at the Seoul Independent Film Festival, and short films by outstanding Asian directors at the SeaShorts Southeast Asian Short Film Festival. Through this category, movie fans can get a glimpse of the creative world view of young Asian filmmakers today. At the same time, a special screening section will also be opened to screen short films by renowned Asian directors such as Kang Je-kyu, Lee Jae-yong, Heo Jin-ho, Jang Yul, Jin Chui-mae and Pilgam. More than 50 other famous Asian filmmakers will be invited to hold online live talks, which will make the Asia-Pacific film exchange more spacious, providing a space for young and international filmmakers to interact. Finally, for the first time in history, the Rolling Youth Film Festival allows audiences to directly participate in the film festival through voting. The offline screening and awards ceremony for short films selected as the final winner will be held in cooperation with the Busan International Film Festival Asia Contents & Film Market (ACFM), and young filmmakers from Korea, China and the Asia-Pacific region will gather to explore ways to collaborate and develop a new era.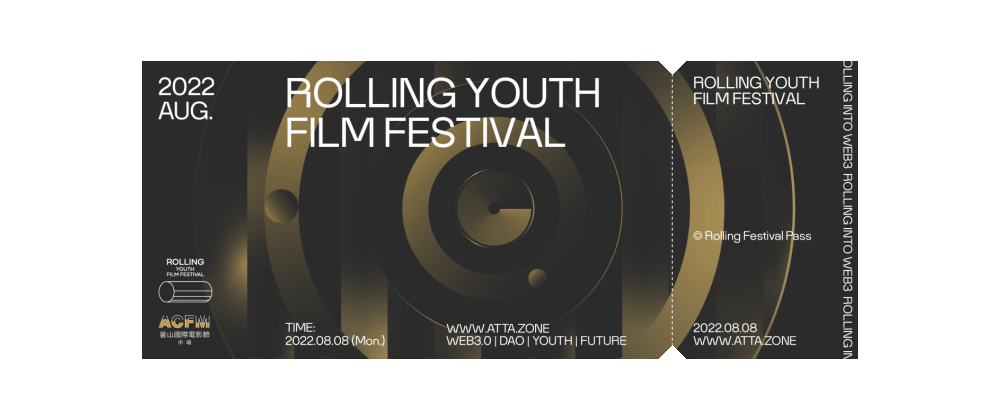 The various screening categories and detailed screening processes of the Rolling Youth Film Festival, which will lead the next-generation film industry, can be found on the ATTA website (https://www.atta.zone/).