8 - 11 October 2022
Asian Contents & Film Market 2022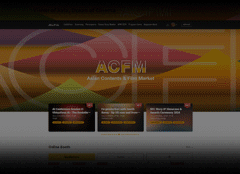 The Asian Contents & Film Market (ACFM) puts the health and safety of participants as its highest priority.
* The following COVID-19 entry procedures are subject to change. Please make sure to check the updated information on the official embassy website for each respective country.
Arriving in Korea
To ensure that your trip to the festival runs as smoothly as possible, please make sure to thoroughly read the rules and restrictions of the corresponding country: https://english.visitkorea.or.kr/enu/TRV/TV_ENG_1_COVID.jsp

Furthermore, more information on the entry and departure from Korea can be found on the Korean Embassy website for each respective country
(Immigration safety measures are subject to frequent change. Please check for updates at the time of travel.)
* The COVID-19 entry procedures above are subject to change, so please make sure to check the updated information on the official embassy website for each respective country.
1. APPLY FOR K-ETA or VISA
In order to enter Korea, visitors should apply for K-ETA or VISA. Please check the appropriate category for each country.
a. K-ETA (Korea Electronic Travel Authorization)

Please apply for K-ETA on this website: https://www.k-eta.go.kr/portal/apply/index.do?locale=EN at least 72 hours before departure.
b. VISA

Please apply for VISA in advance, in consideration of the procedure time of issuance.
2. COVID 19 TEST
Korea Disease Control and Prevention Agency(KDCA) will no longer require international travelers to submit a pre-departure negative COVID-19 test result for the boarding and the entry to the country starting from 00:00 September 3rd, 2022 (KST).

Also, all entering Korea from overseas beginning October 1st, 2022(KST) no longer have to take a PCR test within a day of arrival to Korea.

However, everyone entering Korea is highly recommended to upload their arrival information, health condition information on the Q-Code website prior to their departure. If you do so, it takes much less time for the immigration/quarantine check upon your arrival at Incheon International Airport. 
3. Q-CODE REGISTRATION
Q-code is a system used for shortening the quarantine inspection time, while providing convenience to overseas entrants when submitting their requirements upon entering Korea. It is not mandatory but it will take a long time to fill out and check the documents if unregistered. Therefore, please register Q-code in advance in order to shorten the immigration procedures. You may register at the KDCA (Korea Disease Control and Prevention Agency) website:

https://cov19ent.kdca.go.kr/cpassportal/biz/beffatstmnt/step1.do?lang=en
4. OTHER IMPORTANT INFORMATION
Preventive measures

All participants are strongly advised to wear a mask, especially indoors and in the screening rooms. Furthermore, we urge you to comply to the following preventive measures:

1. Clean your hands and use hand sanitizer regularly
2. Cough and sneeze into your elbow
3. Avoid physical contact, hugs and kisses
Required documents

1. Negative COVID-19 PCR Test Result Certificate or Rapid Antigen Test (RAT) Result
2. Health Questionnaire & Travel Record Declaration
3. Passport

All documents above can be registered in advance via Q-code.
5. PRECAUTIONS
The COVID-19 entry procedures are subject to change, so please make sure to check the updated information on the official embassy website for each respective country.

https://english.visitkorea.or.kr/enu/TRV/TV_ENG_1_COVID.jsp