8 - 11 October 2022
Asian Contents & Film Market 2022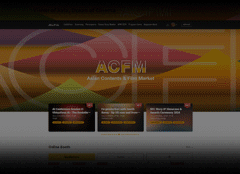 Asian IP
The Busan Story Market, previously limited to IP selections from Taiwan and Japan, has expanded its IPs to Thailand and Indonesia this year and presents a total of 21 Asian IP selections.

10 IP selections from Taiwan consist of projects that attracted much attention for solid storylines in their own country. 5 Japanese IPs that have high possibilities for audiovisual adaptations from major publishers in Japan have been listed for the selection. IP selections from Taiwan and Japan are introduced in cooperation with its official partners for 3 consecutive years, the Taiwan Creative Content Agency (TAICCA) and Japan's Visual Industry Promotion Organization (VIPO).

In addition, the Busan Story Market 2022 presents 3 IPs each from Thailand and Indonesia, countries that have experienced an increase in content demand in the global market, with various genres from drama to romance, horror, and history.
(Countries in Alphabetical Order)
| Country | Title | Company | Author | Genre | IP |
| --- | --- | --- | --- | --- | --- |
| Indonesia | Genduk | GRAMEDIA INTERNATIONAL | Sundari MARDJUKI | Historical Drama, Romance, Family | Book |
| Indonesia | My Coffee Affair and Other Snacks | GRAMEDIA INTERNATIONAL | Zulie | Drama, Romance | Book |
| Indonesia | The Red Bekisar | GRAMEDIA INTERNATIONAL | Ahmad TOHARI | Historical Drama, Romance, Family | Book |
| Japan | Blue Period | KODANSHA LTD. | YAMAGUCHI Tsubasa | Drama, Coming of Age | Manga |
| Japan | Dark Harassment (temporary title) | KADOKAWA CORPORATION | TSUJIMURA Mizuki | Horror, Mystery, Suspense | Book |
| Japan | Kiriko's Crime Diary | TOKUMA SHOTEN PUBLISHING CO., LTD. | HARADA Hika | Drama, Crime, Suspense | Book |
| Japan | Murders in the Glass Tower | JITSUGYO NO NIHON SHA, LTD. | CHINEN Mikito | Mystery, Suspense, Crime | Book |
| Japan | There's No Such Thing as an Easy Job | NIKKEI BUSINESS PUBLICATIONS, INC. | TSUMURA Kikuko | Fantasy, Drama, Adventure | Book |
| Taiwan | Connecting to You | MIRROR FICTION INC. | Beck | Drama, Fantasy, Romance | Book |
| Taiwan | THE DISASTER INTERVENTION AGENT | APEX PRESS, a division of CITE PUBLISHING LTD. | Xerses | Fantasy, Mystery, Romance | Book |
| Taiwan | Forbidden Zone of God | OMNIBOOK PRESS CO., LTD. | LENG Yan | Mystery, Thriller, Crime | Book |
| Taiwan | Judge the Justice | UDN.COM | LIU Chun-Ku | Drama, Crime, Suspense | Web Novel |
| Taiwan | Login Danger | MIRROR FICTION INC. | WU Xiaole | Suspense, Drama, Adventure | Book |
| Taiwan | Magical Super Asia | GRASS JELLY STUDIO | CHEN Uen | Drama, Fantasy, Crime | Comic |
| Taiwan | Mephisto Waltz | POWER OF CONTENT CO., LTD. | Aris Cho | Crime, Suspense, Romance | Book |
| Taiwan | THE THIRD BULLET | THE GRAYHAWK AGENCY | CHANG Kuo-Li | Crime, Thriller, Noir | Book |
| Taiwan | Trials of Humanity | SHOWWE INFORMATION CO., LTD. | iTaiwan | Crime, Mystery, Thriller | Book |
| Taiwan | Working for a Crime Group as a Scriptwriter | - | LIN Ting-Yi | Mystery, Fantasy, Crime | Book |
| Thailand | Monday to Friday | JAMSAI PUBLISHING CO., LTD. | Kinsang | Horror, Suspense, Mystery | Book |
| Thailand | Once Upon the Rainy Day | JAMSAI PUBLISHING CO., LTD. | stuff.lilac | Fantasy, Mystery, Drama | Book |
| Thailand | OOC | Out of Character | JAMSAI PUBLISHING CO., LTD. | Pranpariya | Romance, Drama | Book |