8 - 11 October 2022
Asian Contents & Film Market 2022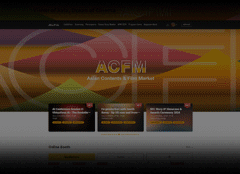 [Meeting Reservation Guide]
On this [Meeting Reservation] menu, market badge holders can register meetings in advance with official selections of the Asian Project Market 2022 and Busan Story Market 2022. Meet a variety of original selections from film projects to IPs, such as books, webtoons, web novels, and story treatments, at the ACFM 2022!

ACFM 2022 is returning to its main venue, BEXCO, Busan and will host a physical market to provide in-person networking and business opportunities to worldwide participants with online components supplemented.
♦ Pre-reservation Period for Meetings
: 13 - 27 Sep 2022
Rescheduling and cancellation after 27 Sep will be available only by email.
♦ How to Register Your Meeting

1. Log in to the Asian Contents & Film Market's official website (www.acfm.kr/eng)
2. Click [Meeting Reservation] - Click [APM] or [Busan Story Market]
3. Select a project you want to meet, then reserve your meeting by clicking [Book Your Meeting] and adding your schedule according to your availability
4. Double-check your confirmed meeting schedule on [My Page] - [My Meeting]
* Detailed information of the projects are available by clicking each selections.
* Each meeting runs in 30 minutes; 25 minutes of actual meeting time, and a 5-minute break.
* Meeting reservation is unavailable for time slots that are blocked out or already reserved.
♦ Official Dates and Venue

Asian Project Market 2022
- Date: 9-10 October, 9:30-18:00 (KST)

11 October, 9:30-14:00 (KST)

- Venue: APM Zone @ Exhibition Center 2, BEXCO, Busan
Busan Story Market 2022
- Date: 8-10 October, 9:30-18:00 (KST)

11 October, 9:30-14:00 (KST)

- Venue: BSM Zone @ Exhibition Center 2, BEXCO, Busan
※ Busan Story Market will provide consecutive interpretation for Meetings.

♦ Notice

1. Attendance Type (Onsite/Online)
- Participants should validate their attendance type (onsite/online) before meeting reservation
on [My Page] - [Market Badge] - [Edit My Badge]. The meeting type is automatically set up according to the participant's attendance type.
- If a meeting reservation is made, participants are NOT capable of changing their attendance type. To change the attendance type after the reservation, participants MUST contact the below.
2. Onsite Participants
- All meetings will take place onsite at Busan.
- There are few meetings available only online due to the project's circumstances.
Onsite participants can conduct online meetings with these projects at the APM and BSM Zone.
3. Online Participants
- All meetings will be held online for online participants.
- To participate in the reserved online meetings, log in to ACFM 2022 Online
(http://online.acfm.kr), go to [My Page] – [My Meeting], and click 'Join the Online Meeting'

♦ Contact

Asian Project Market: apm@biff.kr
Busan Story Market: ip@acfm.kr