8 - 11 October 2022
Asian Contents & Film Market 2022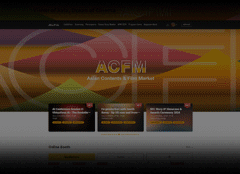 E-IP Market introduces original content, from books, stories, web comics, web novels adaptable across multiple media platforms, to film, media and entertainment industry professionals. Due to the original settings and compelling storylines of the works previously selected, numerous contracts have been successfully negotiated and finalized.
17 Korean selections are notable as a diverse genre. In particular, the sci-fi and fantasy genre based on unique storylines, comedy and drama highlight lively characters, action themes and noir genre as told through dynamic narrations.
A total of 10 Taiwanese original IP selections will be introduced in the E-IP market. The selections range diverse genres and platforms, selected in regards to uniqueness, the feasibility of visualization, and the prominence of original authors.
VIPO will introduce selections from various platforms: manga, book, web novel, and radio drama in the E-IP Market
E-IP Market 2020 Selections
(IP Title in alphabetical order)
No.
Title
Company
Author
Genre
IP
1
A-men
ALL THAT STORY CO., LTD
KIM Chanyeong
Comedy, Drama, Cult
Story
2
Bad Mom
GOZKNOCK ENT
LEE Ji-eun
Mystery, Suspense, Thriller
Book
3
Burning Heart


acquired the drama series adaptation right

KYOBO BOOK CENTRE
LEE Doo-on
Suspense, Thriller, Mystery
Book
4
CELL


under development for production of drama series

TAKEONE COMPANY
KANG Hyeonggyu
Action, Drama, Fantasy
Webtoon
5
Children of the Empire


acquired the webtoon adaptation right

GOZKNOCK ENT
LEE Sungjin
Historical Drama, Mystery, Suspense
Book
6
Fisher of Men
LICO CORP.
LICO
Mystery, Thriller, Suspense
Story
7
How to Extend Mrs. Lim's Lifespan
GOLDENBOUGH
Kangumgoa
Comedy, Drama
Web Novel
8
Jini, Jinny
EUNHAENG NAMU PUBLISHING CO., LTD
JEONG You Jeong
Drama, Fantasy, Adventure
Book
9
Marshal Allen's Detective Office
MUNPIA INC.
Writer S
Action, Sci-fi, Suspense
Web Novel
10
One Baby Two Daddies
STORYCOMPANY
Story: HEO Iwon
Art: LEE Gyeongseok
Comedy, Drama, Romance
Webtoon
11
The Pit
TAKEONE COMPANY
LEE Dong Cheol
Drama, Noir, Action
Webtoon
12
The Past of Lights
MOONJI PUBLISHING CO., LTD.
EUN Heekyung
Drama, Comedy, Romance
Book
13
Reapers


under development for production of drama series

STORYCOMPANY
Story: UHM Hye-kyung
Art: AN Kyung-ik
Sci-fi, Fantasy, Action
Webtoon
14
Shells1)


RIDIBOOKS webtoon series completed

SAFEHOUSE INC.
SHIM Neoul
Sci-fi, Drama, Romance
Book
15
Sinkhole
STORYHOUSE
Story: JIN Cheolsu
Art: Mongwoo
Mystery, Thriller, Horror
Webtoon
16
The Smuggling: Least Concern
SAFEHOUSE INC.
LEE Sanwha
Adventure, Crime, Action
Book
17
The Time-warping Salaryman
MUNPIA INC.
Jungjoohaeng
Drama, Fantasy, Romance
Web Novel
1)Included in a book Superstar
* Webtoon: a term used to describe Korean web comics
(IP Title in alphabetical order)
No.
Title
Company
Author
Genre
IP
1
Countdown Seven Days
THINK BEYOND CO., LTD.
Jibril
Fantasy, Drama, Suspense
Web Novel
2
The Ducks in the Lagoon
LOCUS PUBLISHING COMPANY
CHU Yu-hsun
Action, Adventure, Comedy
Book
3
THE EXORCISM STORIES OF FORMOSA
LINKING PUBLISHING CO., LTD.
YU Teng-wei
Action, Fantasy, Adventure
Book
4
Killer's Love Stories
MIRROR FICTION INC.
HSIEH Tung Lin
Black comedy, Romance
Web Comic
5
THE PINK RIBBON
BOOKS FROM TAIWAN
Monday Recover
Romance, Comedy
Manga
6
THE PRIVILEGED
BOOKS FROM TAIWAN
WU Xiaole
Drama
Book
7
The Rainbow of Time
JIMMY S.P.A. PLUS CO., LTD.
Jimmy LIAO
Drama, Comedy, Romance
Picture Book
8
Supernatural Mask
MILLION STAR ENTERTAINMENT INC.
Teensy Skypoem Longyun Kylie Ka Yi HUANG Flo
Thriller, Fantasy, Drama
Book
9
Urban Legend Hunters:
The Birdman's Challenge
TOII INC.
LI Yi-fang
Suspense, Thriller, Fantasy
Video Game
10
Yan
DALA PUBLISHING COMPANY
CHANG Sheng
Action, Suspense, Drama
Manga
(IP Title in alphabetical order)
| No. | Title | Company | Author | Genre | IP |
| --- | --- | --- | --- | --- | --- |
| 1 | The Aosawa Murders | KADOKAWA CORPORATION | ONDA Riku | Mystery, Drama, Suspense | Book |
| 2 | Death Mission | BUNGEISHUNJU LTD. | YAKUMARU Gaku | Thriller, Noir, Mystery | Book |
| 3 | I AM A HERO | GETA FILMS / GREEN LIGHT LLC. | HANAZAWA Kengo | Horror, Thriller, Action | Manga |
| 4 | Lady Snow Blood | CENTRO (WARNER MUSIC JAPAN) | KOIKE Kazuo | Action, Crime | Manga |
| 5 | Love, Peace and an Energy Company!?: How Moms and Young entrepreneurs changed German Natural Energy | HORIZON FEATURES CO., LTD. | KANA Tomoko | Drama, Adventure, Historical Drama | Book |
| 6 | Omionna | TOKUMA SHOTEN PUBLISHING CO., LTD. | YOSHIMURA Man'ichi | Drama, Romance, Thriller | Book |
| 7 | On the Air! | ABC INTERNATIONAL INC. | HASHIMOTO Yuko | Drama, Comedy, Romance | Radio Drama Script |
| 8 | Takada Sekaikan Story | PRODUCTION SAKO | beco | Comedy, Drama, Romance | Manga |