8 - 11 October 2022
Asian Contents & Film Market 2022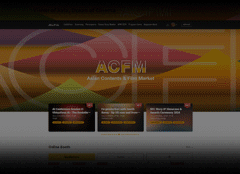 Asian Contents & Film Market (ACFM) is a professional industrial event only allowed for Market Badge holders where film, audiovisual, and entertainment specialists from 45 countries worldwide participate. ACFM 2022 will be held simultaneously as an On-site and online market.
Periods & Rates
Registration Period
Price
Early Bird
18 July – 31 Aug.
$ 150
General
1 - 16 Sep.
$ 200
On-site
4 - 11 Oct.
$ 250
Market Badge Registration Process

Market Badge Benefits
Access to ACFM 2022 Online site
Guest On-site Ticketing Service for festival screening (5 tickets/day)
Access to Online Screening and P&I Screening
Online pre-registration available for meetings with APM projects
Online pre-registration available for meetings with the Busan Story Market official selections
Access to the events of Festival and Market
Access to ACFM 2022 participant database
Membership to Cinando
Market Shuttle Service
Market guest package

Registered delegates enjoy a free 6-months membership to
Cinando
- the first online network for film professionals - and access to contacts, company line-ups, film details and the screening schedule. Also available on
iPhone
and
Android
via the Cinando app. Delegates will receive an email notification on how to access their account. For any questions on Cinando, please contact:
contactus@cinando.com
Details of Market Badge
You can apply for Market Badge after logging in or registering as a new member.
For all of booth exhibitors, please check the promotion code attached to the Booth Registration Confirmation E-mail and apply for Market Badge
Only credit card payments are accepted.
When payment is successfully completed, a registration confirmation email will be sent.
Cancellation can be made up to the online registration deadline, and an administrative fee of 30% will be charged. (70% refund of payment amount)
No cancellations or refunds are made after the deadline.
For participants, the newly updated information given by 20 September(KST) will be reflected on the actual Market Badge. It is not allowed to change any information later 20 Sep(KST).
For more information, please contact badge@acfm.kr