8 - 11 October 2022
Asian Contents & Film Market 2022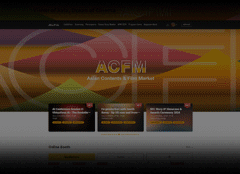 Asian Contents & Film Market (ACFM) Conference will be held at Exhibition Center 2, BEXCO, for 4 days from 8 to 11 October 2022.

ACFM conference, released through the online platform for the past two years, is returning to its main venue without online services. Promising original IPs from Korea, Japan, Taiwan, and ASEAN selected by Busan Story Market will be presented through the pitches. Film and audiovisual projects, including remakes and scripts, are also expected to be unveiled during ACFM. In addition, informative seminars, forums, and Platform BUSAN programs will be held for industry experts.

Detailed information and lineups will be announced in early September.
Only market and festival badge holders are eligible to access the ACFM conference and market venue. Daypass holders are allowed only on the issued date.
Market Conferences
Date : October 8 (Sat) - 11 (Tues), 2022
Venue : Exhibition Center 2, BEXCO, Busan
Contact : event@acfm.kr