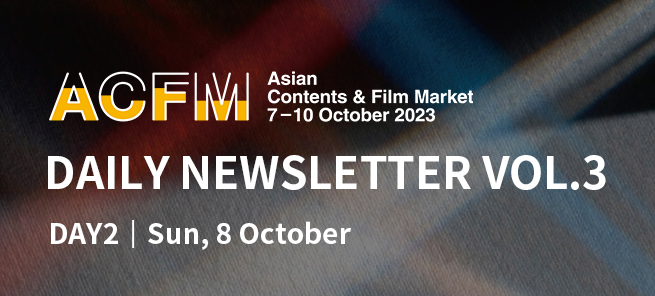 | | |
| --- | --- |
| | Today's ACFM Schedule |
Sun, 8 October | Day 2
- Event Room A : Meeting Room 211-213, 2F, Exhibition Center 1, BEXCO
- Event Room B : Meeting Room 214-215, 2F, Exhibition Center 1, BEXCO
- Event Room C : Meeting Room 217-218, 2F, Exhibition Center 1, BEXCO
- Networking Lounge : Hall 1, Exhibition Center 1, BEXCO
Time
Title
Venue
10:30 - 12:00
Let's Discuss Distribution In Asia & Indonesia
Event Room A
13:30 - 14:30
AI Human, Virtual? Real usage for Contents
15:30 - 17:30
BUSAN CINEMA STUDIOS-XR TECH LAB Technology Seminar
11:00 - 12:30
S#1 Visual Project Pitching Session Ⅰ
Event Room B
14:00 - 15:30
S#1 Visual Project Pitching Session Ⅱ
16:30 - 17:15
BSM Legal Seminar Ⅰ
11:00 - 12:00
Co-production Case Study: Plan75

by VIPO

Event Room C
13:30 - 15:00
Producers' Talk: Prominent Indonesian Producers
16:00 - 17:30
Finding the Oasis of Now for International Co-production

by mylab

09:30 - 10:30
Pitch & Meet Ⅰ *
PB Loung
09:30 – 18:00
Asian Project Market
APM Zone
09:30 – 18:00
Busan Story Market
BSM Meeting Zone
16:00 - 17:00
Building Bridges: São Paulo (Brazil) Happy Hour
Networking Lounge
20:00 – 22:00
BSM Networking Party
Sicily Room, 1F,
Paradise Hotel Busan
* PB Badge holders only


| | |
| --- | --- |
| | Yesterday's ACFM Review |
◆ 2023 Asian Project Market (APM)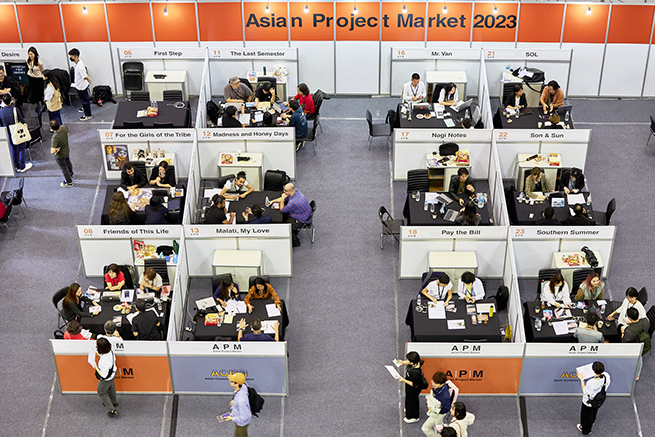 Asian Project Market (APM), Asia's largest investment and co-production market, showcased 30 well-made films and held meetings with investors, co-producers, and industry professionals worldwide.
Asia's promising feature film projects that are in the process of development or production will be introduced to industries through APM until 10 October. On-site meeting registrations with the projects are available for remaining slots at the APM Zone.
◆ 2023 Busan Story Market(BSM)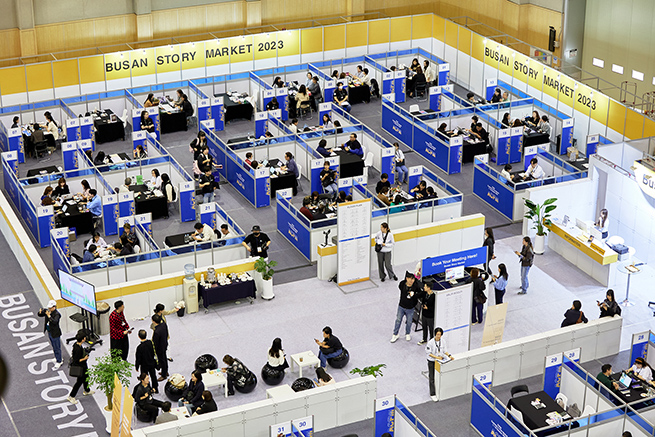 Busan Story Market (BSM) had a successful start! BSM is an IP sales market that introduces outstanding original intellectual property, which are the foundation of all content, so that they can be reproduced into various new forms of audiovisual content. BSM also supports transactions between the content providers and industries including productions and studios.
Meeting with BSM's 50 official selections from Korea, Taiwan, Japan, and Indonesia, is taking place at the BSM Meeting Zone. On-site meeting registrations with the selected IPs are available for remaining slots.
Furthermore, various IP lineup, such as Toyou's Dream, Metacraft, Busan IT Industry Promotion Agency, Jeju Contents Agency, can be explored through IP Sales Booths.
◆ Asian Producers Roundtable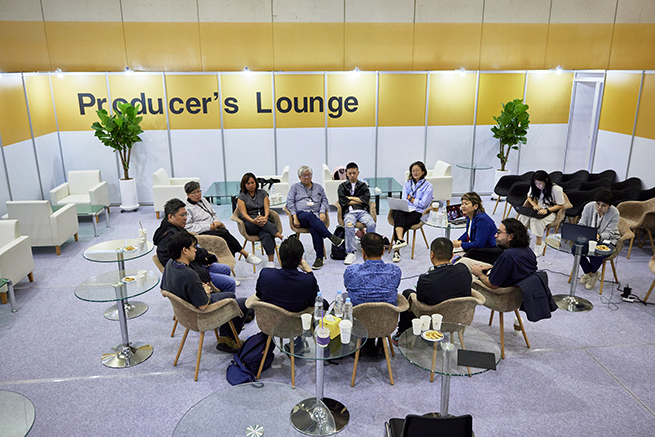 At the Producer's Lounge on 7 October, from 9:30 AM to 11:30 AM, 12 prominent producers from 11 Asian countries gathered for a roundtable meeting. This event was co-organized by The Malaysian Development Lab for Fiction Feature Films (mylab), Asian Project Market, and Platform BUSAN. Moderated by Lorna Tee, a Malaysian producer and curator of mylab, the discussion revolved around collaborative film production and evolving models of production. Each participant shared insights on their respective countries' situations regarding collaborative production and co- funding models, seeking better approaches.
ACFM will facilitate fostering direct business exchanges and enhancing collaboration among domestic and international producers who play pivotal roles in film and audiovisual production.
◆ 2023 Asian Contents & Film Market Conference
BSM Pitch & Match, filled the Event Room with film and audiovisual industries, showing the strong interest in original IPs.
Meanwhile, the Rising Films International Awards had their final pitch of the 5 selections. Director Kim Mijo's The Journey to Gyeongju was the winner of the Rising Films International Awards. The award was jointly presented by Nam Dong-chul, the interim director of the Busan International Film Festival, and Ma Tien-tsung, the producer from Taiwan's Across Films.
Moreover, Market Conference provides various programs with International Coproductions With Indonesia, CINE FLY Startup Showcase, Film Fund Talk, Filmmaker's Talk. While, AFCNet Networking Reception took place at the Networking Lounge


| | |
| --- | --- |
| | Tomorrow's ACFM Schedule |
Mon, 9 October | Day 3
Time
Title
Venue
10:30 - 12:30
AFiS Project Pitching
Event Room A
13:30 - 14:30
WHEN EAST MEETS EAST Book Launch Event
15:30 - 18:30
BIFAN GOEDAM CAMPUS Pitching
10:45 - 12:00
Global Content Industry Trends and Strategies
Event Room B
13:00 - 13:45
Main Cast Announcement: Taiwan Co-Production Thriller MALICE
14:30 - 15:15
BSM Legal Seminar Ⅱ
16:00 - 19:00
Evolving K-story IP Global Showcase
10:30 - 12:00
Filmmaker's Talk: OGIGAMI Naoko
Event Room C
14:00 - 15:00
Cinematic Crossroads: Navigating European and
Asian Film Markets by TTB & EFP
09:30 – 18:00
Asian Project Market
APM Zone
09:30 – 18:00
Busan Story Market
BSM Meeting Zone
16:00 – 18:00
BSM Legal Consultation
16:00 - 17:00
2023 BFC Story IP Awards Ceremony
Networking Lounge
* Global Content Industry Trends and Strategies : Panel Maki Yoko cannot participate due to personal schedule.
Daily Newsletters

Last Newsletter





To unsubscribe, please send an email to newsletter@acfm.kr
If you have problems viewing this email click here.
© 2023 Asian Contents & Film Market. All Rights Reserved.