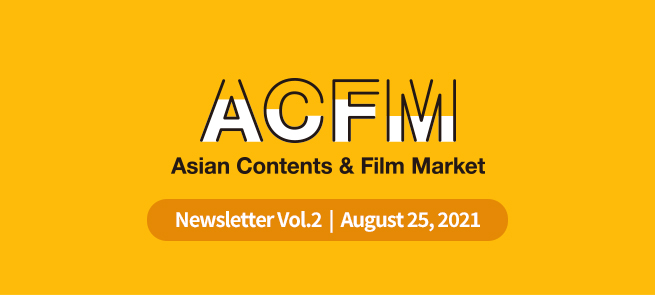 Asian Contents & Film Market Unveils Plans
for 2021 Edition
<Now Open for Online Registration!>
The Asian Contents & Film Market (ACFM) 2021, which marks its 16th edition, is keeping its online format for the domestic and international industry professionals unable to travel due to COVID-19 restrictions, while also holding partial onsite business meetings for domestic participants who are able to attend the Asian Project Market and the E-IP Market physically.

Institutions and Sales agencies can promote their content during ACFM through online booths and online screenings, and buyers and participants can access market screening and the BIFF official selection screening online. Additionally, the ACFM will host online conferences, which aim to explore the changing landscape of the film industry post-pandemic and highlight the voices of different K-Content industry leaders who have been adapting to its circumstances.

ACFM 2021 intends to vitalize the film and content industry through its online market while simultaneously providing an opportunity for effective B2B networking.

Scheduled to be held from 11 - 14 October, the Asian Contents & Film Market 2021 is now open for registration. Please refer to the information below and the official website (www.acfm.kr) for further details regarding market registration and attendance.



Key Dates
Market Badge
Online Booth
Market Screening
Advertisement
Online
Early Registration:
23 August - 30 September
23 August - 28 September
23 August - 28 September
23 August - 28 September
General Registration:
1 - 14 October
Market Badge
Online
Date
Price (Tax Exempt)
Market Badge
Early Registration
23 August - 30 September
$50
General Registration
1 - 14 October
$100
Online Booth
Registration Period: 23 August - 28 September
Type
Price
Package Offerings
Market Badge
Market Screening
Package A
$300
3
5 contents
Package B
$500
5
10 contents
Market Screening
Registration Period: 23 August - 28 September
| Price | Offerings | Duration |
| --- | --- | --- |
| $100 | 5 contents | Max. 2hrs |
Online Advertisement Available!


The online site where over 1,000 industry professionals from 40 countries visit to attend the Asian Contents & Film Market 2021 provides an opportunity for enhancing brand awareness amongst film and entertainment business professionals through online banner advertisements. Registration for online advertisements close on 28 September (Tue). For further details regarding online ad registration, please refer to the catalogue on the ACFM official website.
Click for Online Registration


Asian Project Market (APM) 2021 Presents
the Official 25 Projects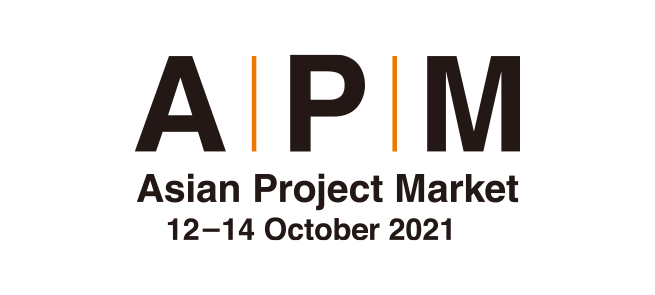 APM completed the selection of 25 film projects for the official Asian Project Market 2021 this August. This year's 429 submissions, an approximate 20% increase from last year's record, is the largest number of submissions APM has ever received, and include a considerable number of BIFF's Asian Film Academy (AFA) alumni. AFA is an educational program with the aim of discovering talented directors and young filmmakers in Asia. Furthermore, the extensive list of promising female directors in the APM lineup is also receiving much attention.

Asian Project Market (APM) 2021 will be open for 3 days from October 12th to October 14th, and will be held online for the directors and producers of the projects as well as for international producers, investors, and distributors who will be unable to attend the event in the midst of COVID-19, while also being held offline for domestic participants. For more information about APM, please visit the official website, http://apm.biff.kr/eng, or email apm@biff.kr for further inquiries.
[APM 2021 Project list]
*projects are arranged in alphabetical order
NO
PROJECT
DIRECTOR
PRODUCER
COUNTRY
1
Before, Now & Then
Kamila ANDINI
Gita FARA,
Ifa ISFANSYAH
Indonesia
2
Christmas Carol
KIM Sungsoo
SUH Youngjoo
Korea
3
Elephants in the Fog
Abinash Bikram SHAH
Anup POUDEL
Nepal
4
Event Agency
Yerlan NURMUKHAMBETOV
Julia KIM,
Assel YERZHANOVA
Kazakhstan
5
Familiar Strangers
Mohammad Ali TALEBI
Mohammad Ali TALEBI,
Shohreh GOLPARIAN
Iran,
Czech Republic
6
Fixed Love, Fixed Girl
LIM Sun-ae
PARK Kwansu
Korea
7
Hallucination
LEE Choonghyun
KIM Dongha
Korea, USA
8
Happy Endings
Sigrid Andrea BERNARDO
Armi Rae CACANINDIN
Philippines
9
If wood could cry, it would cry blood
NGUYEN PHAN Linh Dan
NGO THI Bich Hanh
Vietnam
10
Jaut's Mission
Leonard TEE
TENG Lee Yein,
CK Joey LEE
Malaysia
11
Kurak
Erke DZHUMAKMATOVA,
Emil ATAGELDIEV
Erke DZHUMAKMATOVA
Kyrgyzstan
12
Lives of Crime
HSIEH Pei-Ju,
YANG Chieh,
HUANG Dan-Chi,
LEE I-Hui
Estela Valdivieso CHEN,
Hazel WU
Taiwan
13
MEMENTO MORI: WATER
VU Marcus Manh Cuong
NGUYEN Hoang Diep,
NGUYEN Trinh Hoan
Vietnam
14
A Miracle of Love
Jiju ANTONY
Shaji MATHEW,
Aruna MATHEW
India
15
Nene
Mariam KHATCHVANI
Vladimer KATCHARAVA
Georgia
16
Riding on the Moon Boat
Triparna BANERJEE
Shivajee CHANDRABHUSHAN,
DAN Kyoko
India
17
Secret of My Father
Jero Yun
MO Sung-Jin
Korea
18
The Silence of Birds
Nani Sahra WALKER
Zoe Sua CHO,
Pramod KARKI,
Jordan MATTOS
Nepal,
USA
19
Siren Vanishes
HARUMOTO Yujiro
ICHIYAMA Shozo
Japan
20
Sisyphus
WANG Xixi
XIONG Meng
China,
USA,
Korea
21
Spectrum
KIM Bora
BYUN Seungmin
Korea
22
Tale of the Land
Loeloe HENDRA
Yulia Evina BHARA
Indonesia
23
Today... Tomorrow...
Ray YEUNG
Michael J. WERNER,
Teresa KWONG
Hong Kong
24
Where Would You Like To Go?
KIM Hee-Jung
YOO Byung-ok
Korea
25
Young-dong Market
LEE Hwan
MIN Kyungchan,
YONG Sukju
Korea

Last Newsletter




To unsubscribe, please send an email to newsletter@acfm.kr
If you have problems viewing this email click here.

3rd Floor, BIFF HILL, Busan Cinema Center, 120,
Suyeonggangbyeon-daero, Haeundae-gu, Busan 48058, Korea
Tel. +82-1666-9177 / Fax. +82-51-709-2299
© 2021 Asian Contents & Film Market. All Rights Reserved.